Related Info.
"GPT: your trusted friend as always"


Hyper-Converged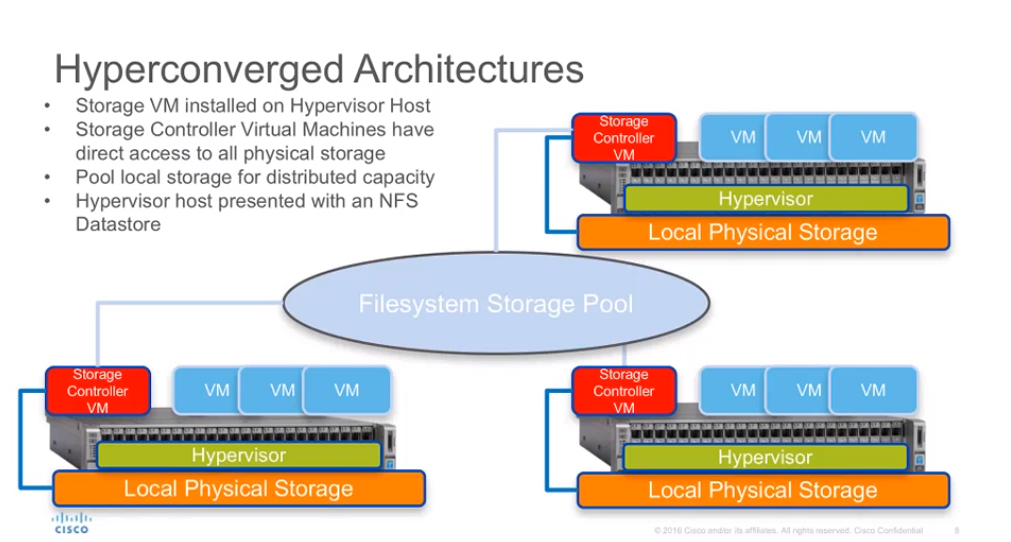 Hyper-converged infrastructure (HCI) is a software-defined IT infrastructure that virtualizes all of the elements of conventional "hardware-defined" systems. HCI includes, at a minimum, virtualized computing                   (a hypervisor), software-defined storage and virtualized networking (software-defined networking). HCI typically runs on commercial off-the-shelf (COTS) servers.
The primary difference between converged infrastructure (CI) and hyper-converged infrastructure is that in HCI, both the storage area network and the underlying storage abstractions are implemented virtually in software (at or via the hypervisor) rather than physically, in hardware. Because all of the software-defined elements are implemented within the context of the hypervisor, management of all resources can be federated (shared) across all instances of a hyper-converged infrastructure.
HCI converges the entire datacenter stack, including compute, storage, storage networking, and virtualization. Complex and expensive legacy infrastructure is replaced by a platform running on turnkey, industry-standard servers that enable enterprises to start small and scale one node at a time. Software running on each server node distributes all operating functions across the cluster for superior performance and resilience.
source : Cisco, Nutanix
---
For sales inquiry, please contact Mr.Surasit at 085-553-5435 /Mr. Wisarut Rujirakan at 086-323-6795 or office number 02-411-0882. He can also be reached by email at [email protected]