nanoCAD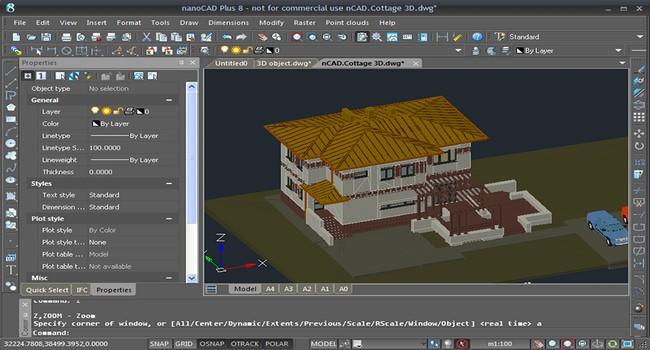 nanoCAD is an easy-to-use CAD application that provides an excellent user experience by providing high performance, full capabilities and a classic interface.
          nanoCAD was created to deliver Design and projects for all industries Which includes a full set of basic and advanced tools for creating DWG-compliant CAD files, and also provides innovative, collaborative and customizable features to increase your efficiency, including several APIs that help Allows you to develop complex CAD programs. NanoCAD has a set of commands and UI elements that will allow users of other compatible CAD applications to Ever drawing area, command line and the position of the menu items and icons on the toolbar. Which can be easily remembered AutoCAD experienced users will not feel any change when using nanoCAD.
          nanoCAD uses the industry standard DWG (* .dwg) file format. Drawings created or edited in nanoCAD can be used with almost all other popular CAD systems without conversion or data loss. If you are unable to open a drawing from another system due to damage Or you want to check for open errors or you have to reduce the size of the nanoCAD file, use the command to check, recover, and eliminate Ensures that you will not lose document data due to software or hardware failures with nanoCAD's autosave and backup functions.
          nanoCAD has many sets of tools for creating and editing 2D / 3D objects. Draw many styles for creating most geometric elements. It's a meticulous object editing command, allowing you to edit drawings with just a few mouse clicks. Reusable blocks and references to external drawings make the drawing process easier and faster. The advanced sizing feature allows you to create any dimension in many ways.
          nanoCAD has a powerful Excel style table editing tool with a rich set of capabilities including the ability to create tables that contain cells with embedded macros and The nanoCAD scripting engine forum allows regular users to automate their daily work. Users can write macros using the Visual Basic Script, Java Script, or other scripting languages ​​supported by Microsoft Windows, including built-in LISP.
          nanoCAD has several types of APIs for creating CAD applications. Above the functions NRX core is a C ++ and .NET API similar to AutoCAD's ARC. It helps to translate applications that use AutoCAD to nanoCAD easily. It is a compact and durable object-oriented programming interface. Proven from the field and proven to be used in many commercial CAD applications, nanoCAD also features MultiCAD API ™ for C ++ and .NET, a revolutionary development tool for creating apps. Binary support for different CAD platforms. Applications developed with the MultiCAD API will work not only in nanoCAD, but also with other compatible CAD systems, including AutoCAD.

---
For sales inquiry, please contact Mr.Surasit at 085-553-5435 /Mr. Wisarut Rujirakan at 086-323-6795 or office number 02-411-0882. He can also be reached by email at sales@9t.com