Veeam

Veeam Backup & Replication delivers Availability for ALL your virtual, physical and cloud-based workloads. Through a single management console, you can manage fast, flexible and reliable backup, recovery and replication of all your applications and data to eliminate legacy backup solutions forever.
Veeam Backup & Replication features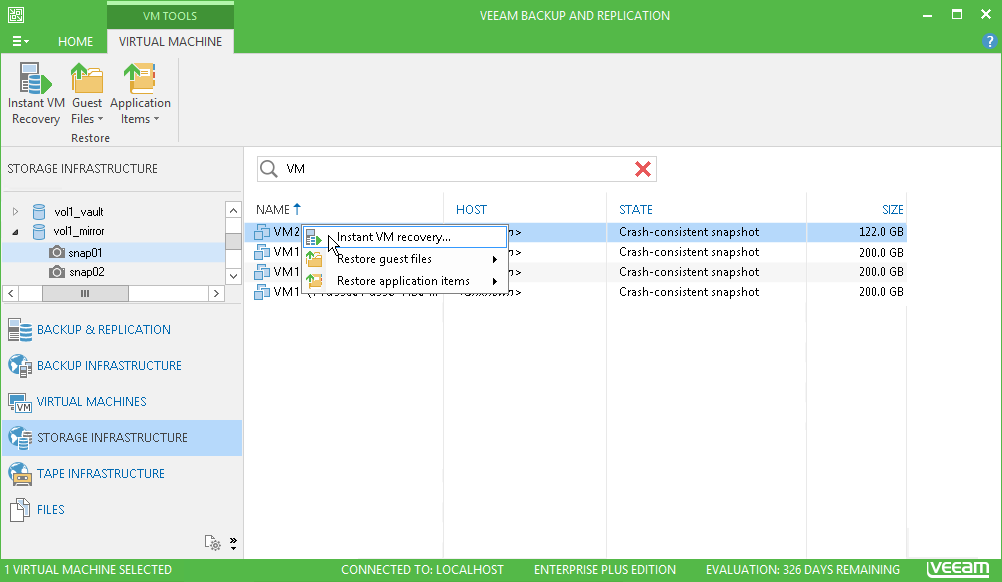 Backup
Veeam provides fast and reliable backup for ALL workloads — virtual, physical and cloud.
• Veeam Cloud Tier: Provides unlimited capacity for long-term data retention with native, cost effective object storage integrations which allow organizations to scale both on-premises and in the cloud.
• Veeam Plug-ins for SAP HANA and Oracle RMAN Improve scalability and operational efficiencies while managing enterprise environments.
• Built-in management for Veeam Agent for Microsoft Windows and Veeam Agent for Linux: Manage agent-based backup capabilities directly inside the Veeam Backup & Replication console, including a single pane of glass for Availability of virtual, physical and cloud workloads, centralized backup agent deployment and Windows Server Failover Cluster support.
• Image-level VM backups: Create application-consistent backups with advanced application-aware processing.
• Backup from Storage Snapshots: Generate ultra-fast backups with low RPOs from storage snapshots from an evergrowing list of the world's leading storage providers.
• Scale-out Backup Repository: Simplify the management of your backups through the creation of a single virtual pool of backup storage, including support for on-premises and cloud-based object storage.
• Veeam Cloud Connect: Get backups off site without the cost and complexity of building and maintaining an off-site infrastructure; fast and secure cloud backup to a service provider.
• SureBackup : Automatically test and verify every backup and every virtual machine (VM) for recoverability.
• Built-in WAN acceleration: Get backups off site up to 50x faster and save bandwidth.
• Direct Storage Access: Perform vSphere backups faster and with reduced impact by backing up via Direct SAN Access and Direct NFS Access.
• Native tape support: Leverage multiple tape support options including direct restore to tape, parallel processing, global media pools, native GrandfatherFather-Son (GFS) retention and backing up and restoring entire volumes to NDMP v4 and writing to media pools in WORM format.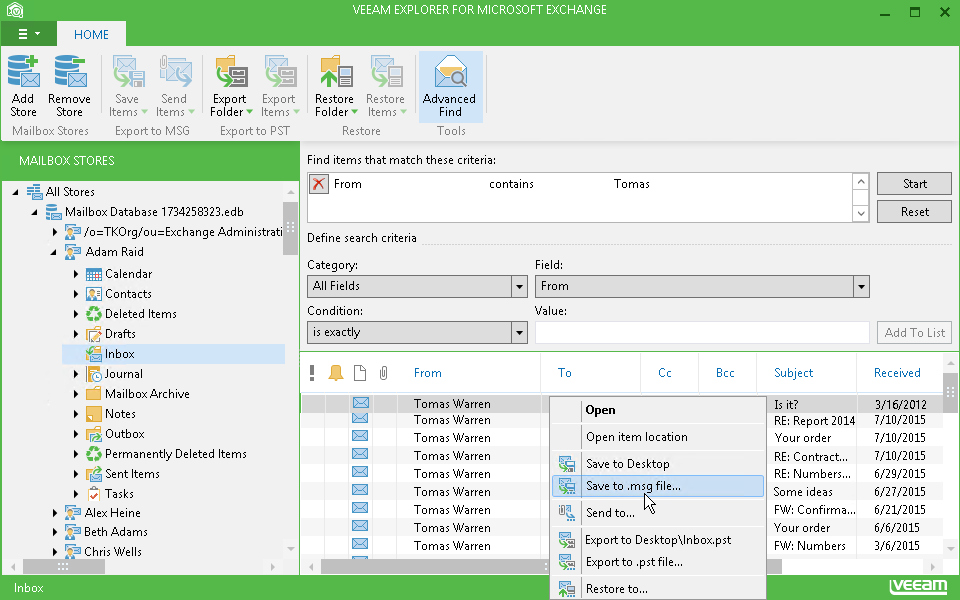 Recovery
Veeam delivers lightning-fast, reliable restore for individual files, entire VMs and application items — ensuring you have confidence in virtually every recovery scenario.
• Instant VM Recovery: Recover a failed VM in less than two minutes
• Instant File-Level Recovery: Recover guest OS files and folders on the fly
• Veeam Cloud Mobility: Get easy portability and recovery of ANY on-premises or cloud-based workloads to AWS, Azure and Azure Stack, with just 2 steps.
• Recover with added confidence: Restore backups with confidence by adding security, antivirus and intrusion prevention capabilities with Veeam DataLabs Secure Restore and additional GDPR and compliance protection with Veeam DataLabs Staged Restore
• Veeam Explorer for Microsoft Active Directory: Instantly recover individual AD objects and entire containers, easily recover user accounts and passwords, enable restores of Group Policy Objects (GPOs), Active Directory- integrated DNS records and more
• Veeam Explorer for Microsoft Exchange: Instant visibility and granular recovery of individual Exchange items, including hard-deleted items, detailed export reports for eDiscovery and more
• Veeam Explorer for Microsoft SharePoint: Instant visibility into SharePoint backups; easily find and recover specific SharePoint items as well as individual sites
• Veeam Explorer for Microsoft SQL Server: Fast transaction and table-level recovery of SQL databases allowing for precise point-in-time restore
• Veeam Explorer for Oracle: Transaction-level recovery of Oracle databases, including agentless transaction log backups, enabling precise point-in-time restore
• Veeam Explorer for Storage Snapshots: Recover single files and entire VMs from the storage snapshots of the world's leading storage providers
• Role-Based Access Control (RBAC): Establish internal self-service backup and restore for VMware vSphere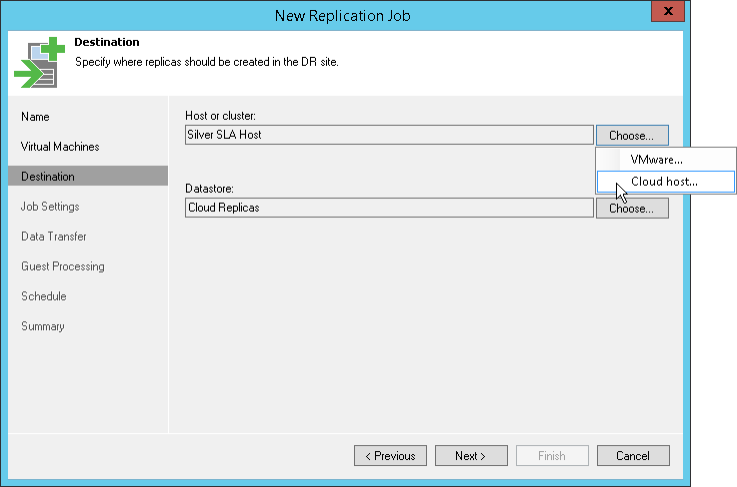 Replication
Veeam provides advanced, image-based VM replication and streamlined disaster recovery — ensuring the Availability of your mission-critical applications.
• Image-based VM replication: Replicate VMs on site for high-Availability or offsite for disaster recovery
• Veeam Cloud Connect Replication: Get replicas off site without the cost and complexity of building and maintaining a disaster recovery site; fast and secure cloud-based disaster recovery (DRaaS) through a service provider
• SureReplica: Automatically test and verify every VM replica for recoverability
• Built-in WAN acceleration: Get replicas off site up to 50x faster and save bandwidth
• Failover and Failback: Replica rollback and assisted failover and failback with little to no business interruption